The FIFA World Cup started June 11th, 2010. C3 International and Exim Licensing have partnered up to release Snoopy World Cup plush figurines to celebrate Peanuts 60th Anniversary and the 2010 World Cup in 3 different countries: Peru, Nicaragua and Bolivia.
Norkys in Peru, a "Pollos a la Brasa" chain of restaurants will begin the promotion the 2nd week of June in 97 of their stores throughout Peru. Customers in Peru can receive a free plush toy with the purchase of any kids meal or with a value menu or with any order/purchase that has an Inca Kola (the local favorite drink in Peru).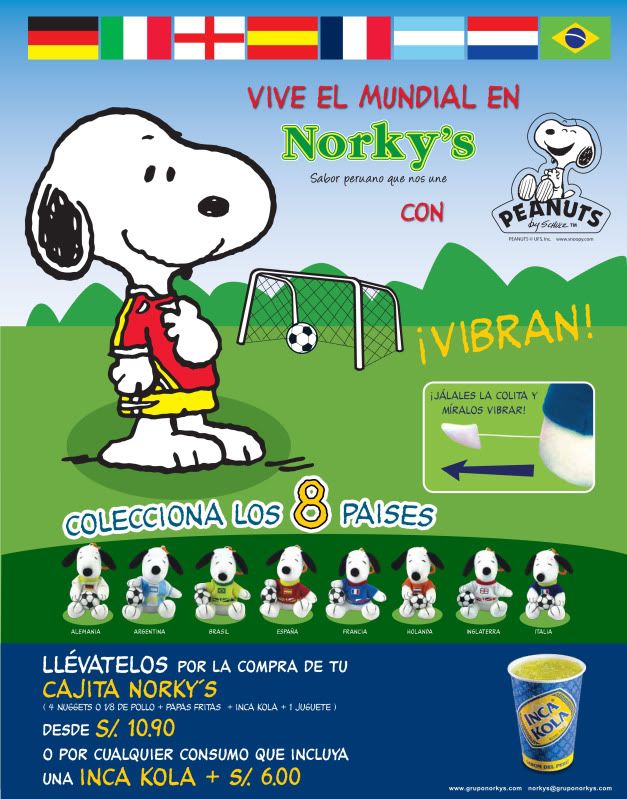 Tip Top, a chain of restaurants that serves fried chicken, will also carry the Snoopy plush toys in their 30 stores in Nicaragua. Tip Top also offers a kids menu and the promotion was also launched the 2nd week in June. A limited number of pieces will be available per store. Tip Top plans on running slides that feature some of the Snoopy collectible toys during some of the World Cup games in their local TV stations. Here is an example of one of them in what they hope can be one of the featured matches.
Pollos Copacabana in Bolivia will offer the 8 different Snoopy toys holding small soccer balls and featuring 8 different country teams. Customers in Bolivia can receive a free plush Snoopy with a kids meal with the purchase of a 8 pc or 12 pc chicken bucket combo. Here is a TV commercial being ran in that country.
The following countries are featured: Brasil, Italy, France, Argentina, England, Germany, Netherlands and Spain. As of June 15th, 7 of these teams have played their first game in the World Cup and NONE of them have lost a match.